The Artisanal Vinegar Marker's Handbook, 2015, 178 pp.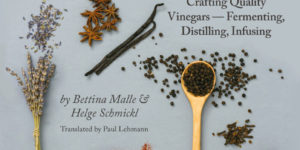 If you would like to make vinegar yourself in the best quality, you can learn the art of vinegar making with the help of our book The Artisanal Vinegar Maker's Handbook:
Making a mash
How to make vinegar and obtain good quality? First you must make the perfect mash. The quality of the mash is the foundation for making vinegar. Using rotten and dirty fruit can never lead to high-quality vinegar. You will find precise guides and recipes to make mashes easily yourself, and you will find out everything about possible problems (infections, overoxidation, yeast film, etc.) during fermentation and the measures to counteract these.
Vinegar fermentation
You will find a detailed description for starting vinegar fermentation. How can you make a mother of vinegar yourself, or store an active mother? How do I start vinegar fermentation? What problems can arise, and how can I remedy them? Vinegar calculations of the required quantities of acid, alcohol, water and fermentation starter.
The vinegar equipment for making vinegar
Classic surface process and vinegar fermentation using the generator process. How does the optimum vinegar generator have to be setup correctly from a process technology perspective? What materials can I use? How do I construct or alternatively recognize functional equipment? Regardless of whether you would like to build the equipment yourself or buy it, here you can acquire the necessary know-how to end up with the perfect vinegar making equipment for your homemade vinegar.
Additional flavors and aromas from the packing material technique
Detailed description of the fermentation process to refine the vinegar during the fermentation process using additional fruit, herbs, etc. (raspberries, coffee, nuts, raisins, orange peel,…) or unfermented products such as asparagus, tomatoes etc..
Analysis for acetic acid and alcohol content
Learn the necessary analysis methods and vinegar calculations so you can analyze the alcohol and acetic acid content yourself at any time.
Recipes
What is vinegar made of? Numerous recipes for homemade vinegar with precise information for fermented vinegars and infused vinegars. Discover how you can make the greatest variety of vinegars at home yourself.