The Essential Oil Maker's Handbook – A Practical Guide, 2015, 132 pp.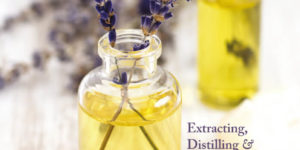 How to make essential oils? If you would like to make your own essential oils and hydrosols in the best quality, you can learn the art of distilling hands-on with the help of our book The Essential Oil Maker's Handbook:
Harvesting and preparing the plants – the foundation for homemade oils and hydrosols
Distillation – a detailed guide
Making essential oils and hydrosols yourself – the still
Separating the essential oils
Numerous essential oil recipes for distilling essential oils and hydrosols, as well as for using them.
Harvesting and Preparing the Plants
To obtain essential oils and full-bodied hydrosols, you must first of all harvest the plants at the optimum time (time of day) and prepare them for distillation. The quality of the drugs, the harvesting time of the plants and the preparation before distillation are the foundation for successful oil distillation. If you use improperly harvested plants and incorrectly crushed materials, you can never expect a high oil yield and intensive hydrosol. You will find exact guides and recipes for distillation in the book (videos and pictures in the Essential Oil Online Course).
Distillation
The book also contains a detailed description of distilling: How much water should I put in the still? How many drugs can I put in the still in proportion to the water? What is the optimum distillation speed? What collecting vessel should I use? Naturally, you can also find more answers on this in our Making Essential Oils Courses.
How should the optimum distillation equipment be set up correctly from a process technology perspective? What is the LEONARDO® still? What materials can I use? How to make essential oil stills or recognize a functional still? Regardless of whether you would like to build the still yourself or buy it, here you can acquire the necessary know-how to end up with the perfect steam still for making your own essential oils.
Separating the Essential Oils
Detailed description of separating the oil: When can I separate the essential oils from the hydrosol? What equipment do I need for this? Where and for how long can I store oils and hydrosols?
Recipes
Numerous recipes – how to make essential oils at home for homemade oils and hydrosols as well as for creams, soaps, perfumes, deodorants, etc. Discover how you can make the greatest variety of products at home yourself.