Acetic acid analysis kit, for determination of acetic acid content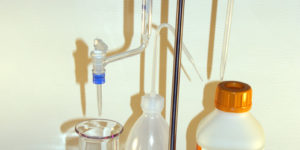 The most accurate of the simple determination methods for determining the acetic acid content during fermentation or in the finished vinegar is acid-base titration with a sodium hydroxide solution using phenolphthalein as an indicator. In addition, the vinegar neutralized with sodium hydroxide is also needed for determining the alcohol content; see Schmickl alcohol analysis set. The accuracy of the determination is ± 0.1% acid.
Use our online calculator to analyze the measurement results.
Delivery contents:
1 burette (Duran® glass with glass tap on the side and Shellbach stripes (reading aid), class AS, 50:0.1 ± 0.05 ml, scale length approximately 500 mm, certificate of conformity)
1 volumetric pipette (class B, 10 ± 0.03 ml, with ring mark, for full discharge EX adjusted, length ca. 440 mm)
1 flat-bottom flask (500 ml)
1 tripod mount
1 tripod rod
Parcel si
1 burette holder for 2 burettes
1 wash-bottle (500 ml)
1 Pasteur pipette, plastic (3 ml)
1 plastic funnel
Sodium hydroxide standard solution 1 mol/l (1N) ± 0.2% (1 liter)
Phenolphthalein solution 1% (100 ml)
Silicon paste Baysilone®, low viscosity (35 g)
1 pair of safety glasses
Detailed instruction manual